March 13th, 2003
In This Issue
Samaritan Priests

Financial Endowment Page

Mandaean and Samaritan Literature

The Travels of Sir John Mandeville

Nehar Deah, Beshalach
---
The Samaritan Update, a bi-weekly Internet Newsletter is a division of the-samaritans.com.
Subscription is free via E-mail only.
-----
Editor: Shomron
Co-Editor: Osher
Sassoni
Staff Writer:
Staff Photographer:
Eyal Cohen
Staff Translator:
Guy Tsabary
Special Contributors: A. B. News Services
----
Contact information:
Shomron@Yahoo.com
---
and to our
---
Support our websites by informing your friends of the Samaritan/ Israelites and our web sites.
---
On January 1, 2003, the Samaritan Communities numbered 656 persons.
The Samaritan Passover Sacrifice this coming year
will occur on April, 15th, 2003
This will be the evening of the 14th day of the first month of the 3642 year
since the Israelites entered the land of Canaan.
---
Read and gain knowledge at our website:
What have you read lately?
---
Our Discussion Board is Active at Our Website!
---
WANTED:
Spanish and French Translation Editors for establishing a new Spanish and French sections on our web site.
Please contact:
Shomron
---
Support and Visit Our Web Based Store
From Books to a Samaritan Interactive CD-ROM works on Windows or Mac PC. Exhibiting many photos and mini-movies. It addresses the Samaritan religion, their chronicles, community, language and literature. The Samaritan Singers reform (Osher sings with them on this cd-rom) their music on the CD-ROM. It is full of information.
Other items: Samaritan Cookbook in Hebrew,
CD of the Samaritan Singers Assembly,
Check it out today!
Or if you are looking for something different. Interested parties can contact us at webmaster@The-Samaritans.com
---
Get your free
E-mail Address from www.The-Samaritans.com/ . Just go to our web site and find
"get a free e-mail address" or go to http://samaritan.i-p.com/ and register.
Let people know you are involved with the Samaritans.
---
Subscribe to the
A. B.- The Samaritan News- A Bi-Weekly Newspaper, Written in Four Languages.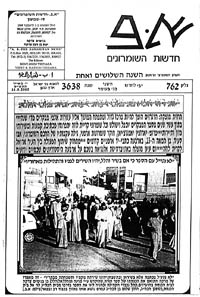 Since December 1969.
POB 1029, Holon 58 110, Israel or
E-mail Benyamim and Yefet Tsedaka: tsedakab@netvision.net.il
Back Issues Are Available.
Mount Gerizim, All the Days of Our Lives
---
Samaritan Priests
By Osher Sassoni
Samaritan priests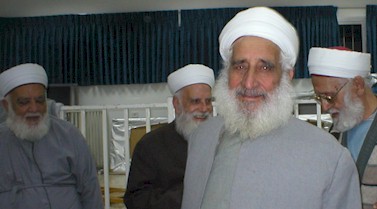 pictured from left to right: The Priest Natanel (brother of Pinhas, the first priest who came to Holon after 1967), son of Abraham, son of Pinhas, son of Issak, son of Shalma. In the middle is priest Aharon (brother of the former High Priest Yosef), son of Ab Hisda, son of Yaacob, son of Aharon, son of Shalma. The High Priest Shalom son of Amram son of Isaac son of Amram son of Shalma. The Priest Abed son of Tsadaka, son of Isaac, son of Amram, son of Shalma.
---
Financial Endowment Page
Support Us To Serve You Better!
By Shomron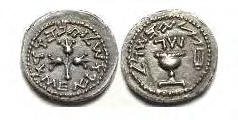 We have managed so far to put together a very informative website; the-samaritans.com. In the past five years, we have spent many hours of productive time to bring you the site as it is today. Not financed by any institutes or organizations, we have managed to pay out of our own pockets for the contents. We have been fortunate to have a small number of people that have helped to pay for the expensive of the services that we need to stay active online. To these people, we say, 'Thank You." We would like to expand and develop the site that it may even be more superior. So help us to serve you better! We have opened a new web page called the Financial Endowment page. It is designed for anyone wishing to donate in order to help expand and maintain the site. Buy from our web store gives us a small revenue. Our profit from the products are not great, this was not intended to be of great reward, it was just to help maintain the website. So if you enjoy our websites, the-samaritans.com and the Samaritan Update, help support us or ask us how you can help!
---
Samaritan Manuscripts and Inscriptions
(We are just trying to serve you better)
One of our new pages can be found in the right column of our homepage of the-samaritans.com. We will update this page with any information that is relative to the locations of any Samaritan manuscripts and inscriptions. Check it out!
---
"Und das Leben ist siegreich! / And Life is Victorious!" –

Mandäische und samaritanische Literatur zum Gedenken an Rudolf Macuch /Mandaean and Samaritan Literature

– in Memory of Rudolf Macuch (1919-1993)

Berlin, 1.-2. Oktober 2003


Liebe Kolleginnen und Kollegen!
Für die Teilnahme an der Macuch-Gedenkkonferenz haben sich erfreulich viele Wissenschaftler aus zahlreichen Ländern mit einem Beitrag angemeldet, so daß die Berücksichtigung weiterer Referate in dem für die Konferenz angesetzten Zeitraum von zwei Tagen kaum möglich erscheint. Zu Ihrer Information ist das vorläufige Programm der Tagung beigefügt. Um besonders den Referenten aus osteuropäischen Ländern eine Teilnahme zu ermöglichen bzw. den anderen Referenten eine Anreise zu erleichtern, bemühen wir uns um eine Unterstützung bei einer Stiftung.
Ende September / Anfang Oktober wird es schwierig sein, aufgrund des zu dem Zeitpunkt stattfindenden Berlin-Marathons und des Nationalfeiertages (am 3.10.) hier in Berlin kurzfristig eine Unterkunft zu finden. Deshalb möchten wir gerne für Sie und in Ihrem Auftrag eine Zimmerreservierung vornehmen. Alle mögen bitte Ihre Teilnahme noch einmal bestätigen und mir mitteilen, ob (und für welchen Zeitraum) ein Zimmer für sie reserviert werden soll. Eine Antwort wird bald möglichst erwartet.
Mit den besten Wünschen und in der Hoffnung, Sie bald hier begrüßen zu dürfen, verbleibe ich mit freundlichen Grüßen
Rainer Voigt
---------

Dear Colleagues,
We have received a gratifyingly large number of applications from scholars from many countries wishing to contribute with a paper to the Commemmorative Conference for Rudolf Macuch. It therefore seems no longer possible to accommodate any additional talks for our conference planned for a duration of 2 days only. For your information we enclose the provisional conference schedule.
In order to facilitate the participation of speakers especially from Eastern Europe and help other participants with their journey we will try to gain financial support from a donation trust.
As, coincidentally, the period between end of September and beginning of October will see the Berlin Marathon as well as the celebration of the National Holiday (on the 3rd of Oct.) and short-term reservation is likely to prove difficult we would suggest that you let us reserve your accommodations at your request and well in advance. Consequently would all participants please contact me again and confirm their attendance and let me know at the same time what, if any, room reservation they require and for how long.
With the best wishes for you and your work and in the hope that we will see you soon here in Berlin, I remain Your colleague
Rainer Voigt semiarab@zedat.fu-berlin.de
---------


Programm mit Zeitplan 1.-2. Oktober 2003
Mittwoch, 1. Oktober
930 Begrüßung durch den Dekan des Fachbereichs Geschichts und Kulturwissenschaften der Freien Universität Prof. Dr. E. König
Grußwort Prof. Dr. R. Voigt
I. Mandäische Literatur
1. Rudolf Macuch - Leben und Werk
1000 Prof. Dr. Maria Macuch (FU Berlin): "Rudolf Macuch"
1030-1100 Kaffepause
1100 Prof. Dr. Dr. Kurt Rudolph: "Die Mandäer heute"
1130 Prof. Dr. Sabih Al-Sohairy (Heidelberg): "Die Bedeutung Rudolf Macuchs Forschungen in Iraq"
2. Die Mandäer und ihre Umwelt
1200 Dr. Harald Gropp (Universität Heidelberg): "Der mandäische Kalender und seine Beziehungen zu Kalendern im Iran"
1230 Prof. Dr. H
inasi
Gündüz (Ondokuz Mayis University, Samsun, Türkei): "Islamic influence and speculation in Mandaic literature and tradition"

1300-1430 Mittagspause
1430 Dr. Sylvia Powels-Niami (Universität Potsdam): "Iranian Eschatological Elements in Near Eastern Religion with special regard to Samaritans and Mandaeans"
3. Mythologische und magische Literatur bei den Mandäern
1500 Prof. Dr. Edmondo Lupieri (Universität Udine, Italien): "The Mandaeans and the Myth of Their Origins""
1530 Dr. Erica C. D. Hunter (University of Cambridge, England): "Incantation Bowls and Mandaeans in Late Antiquity"
1600-1630 Kaffepause
1630 Prof. Dr. Shaul Shaked (The Hebrew University, Jerusalem, Israel): "Mandaic incantation bowls in the Schoyen Collection"
4. Textgattungen und Literatur bei den Mandäern
1700 Dr. Victor Rebrik (Universität St. Petersburg, Rußland): "Jenseitswächter im "Diwan Abatur" und verwandten Texten"
1730 Dr. Michael Tarelko (Minsk, Weißrußland): "The unpublished Mandaean manuscript DC 40. Preliminary remarks"
Donnerstag, 2. Oktober
1000 Prof. Dr. Rainer Voigt (FU Berlin): "Zur Metrik mandäischer Gebete"
II. Samaritanische Literatur
1. Rituelle und liturgische Texte bei den Samaritanern
1030 Benyamin Tsedaka (Holon, Israel): "Words in Contention within the Samaritans today in the Reading of the Law and in Liturgy"
1100-1130 Kaffepause
1130 Prof. Dr. József Zsengellér (Pápa, Ungarn): "Temple and Sacred Text – a Samaritan and Jewish perspective"
2. Textgattungen und Literatur bei den Samaritanern
1200 Prof. Dr. Alan Crown (University of Sydney, Australien): "Text layout in the Samaritan Torah manuscript and its value in textual study"
1230 Dr. Gerhard Wedel (Berlin): "Semantische Wortfelduntersuchungen an Beispielen aus dem Kitab att-Tabbakh des Samartinaers Abu l-Hasan as-Suri"
Mittagspause 1300 – 1430
1430 Prof. Magnar Kartveit (School of Mission and Theology, Stavanger, Norwegen): "Die älteste samaritanische Kanonauffassung"
1500 Prof. Dr. Haseeb Shehadeh (University of Helsinki, Finnland): "Reflections on Firkovich Collection of Samaritan Manuscripts in St. Petersburg"
1530 Dr. Ali Watad (Israel): "Sources of the Similar Words Book by A. Alaia"
1600-1630 Kaffepause
III. Aramäisch-Arabische Sektion
1630 Dr. G. M. Demidova (Universität St. Petersburg, Rußland): "Some special features of the West-Aramaic verb morphology"
1700 Prof. Dr. Frolova (Universität St. Petersburg, Rußland): "Some characteristics of the Arabic lyric poetry vocabulary"
1730 Prof. Dr. Oleg Redkin (Universität St. Petersburg, Rußland): "The dialects of South Arabia and the Semitic substratum"
---
The Travels of Sir John Mandeville
CHAPTER XII : OF THE DEAD SEA; AND OF THE FLOME JORDAN. OF THE HEAD OF SAINT JOHN THE BAPTIST; AND OF THE USAGES OF THE SAMARITANS
And after men go to Sichem, some-time clept Sichar; and that is in the province of Samaritans. And there is a full fair vale and a fructuous; and there is a fair city and a good that men clepe Neople. And from thence is a journey to Jerusalem. And there is the well, where our Lord spake to the woman of Samaritan. And there was wont to be a church, but it is beaten down. Beside that well King Rehoboam let make two calves of gold and made them to be worshipped, and put that one at Dan and that other at Bethel. And a mile from Sichar is the city of Luz; and in that city dwelt Abraham a certain time. Sichem is a ten mile from Jerusalem, and it is clept Neople; that is for to say, the New City. And nigh beside is the tomb of Joseph the son of Jacob that governed Egypt: for the Jews bare his bones from Egypt and buried them there, and thither go the Jews often-time in pilgrimage with great devotion. In that city was Dinah, Jacob's daughter, ravished, for whom her brethren slew many persons and did many harms to the city. And there beside is the hill of Gerizim, where the Samaritans make their sacrifice: in that hill would Abraham have sacrificed his son Isaac. And there beside is the vale of Dotaim, and there is the cistern, where Joseph, was cast in of his brethren, which they sold; and that is two mile from Sichar.
From thence go men to Samaria that men clepe now Sebast; and that is the chief city of that country, and it sits between the hill of Aygnes as Jerusalem doth. In that city was the sittings of the twelve tribes of Israel; but the city is not now so great as it was wont to be. There was buried Saint John the Baptist between two prophets, Elisha and Abdon; but he was beheaded in the castle of Macharim beside the Dead Sea, and after he was translated of his disciples, and buried at Samaria. And there let Julianus Apostata dig him up and let burn his bones (for he was at that time emperor) and let winnow the ashes in the wind. But the finger that shewed our Lord, saying, ECCE AGNUS DEI; that is to say, 'Lo! the Lamb of God,' that would never burn, but is all whole; - that finger let Saint Thecla, the holy virgin, be born into the hill of Sebast; and there make men great feast.
In that place was wont to be a fair church; and many other there were; but they be all beaten down. There was wont to be the head of Saint John Baptist, enclosed in the wall. But the Emperor Theodosius let draw it out, and found it wrapped in a little cloth, all bloody; and so he let it to be born to Constantinople. And yet at Constantinople is the hinder part of the head, and the fore part of the head, till under the chin, is at Rome under the church of Saint Silvester, where be nuns of an hundred orders: and it is yet all broilly, as though it were half-burnt, for the Emperor Julianus above-said, of his cursedness and malice, let burn that part with the other bones, and yet it sheweth; and this thing hath been proved both by popes and by emperors. And the jaws beneath, that hold to the chin, and a part of the ashes and the platter that the head was laid in, when it was smitten off, is at Genoa; and the Genoese make of it great feast, and so do the Saracens also. And some men say that the head of Saint John is at Amiens in Picardy; and other men say that it is the head of Saint John the Bishop. I wot never, but God knoweth; but in what wise that men worship it, the blessed Saint John holds him a-paid.
From this city of Sebast unto Jerusalem is twelve mile. And between the hills of that country there is a well that four sithes in the year changeth his colour, sometime green, sometime red, sometime clear and sometime trouble; and men clepe that well, Job. And the folk of that country, that men clepe Samaritans, were converted and baptized by the apostles; but they hold not well their doctrine, and always they hold laws by themselves, varying from Christian men, from Saracens, Jews and Paynims. And the Samaritans lieve well in one God, and they say well that there is but only one God, that all formed, and all shall doom; and they hold the Bible after the letter, and they use the Psalter as the Jews do. And they say that they be the right sons of God. And among all other folk, they say that they be best beloved of God, and that to them belongeth the heritage that God behight to his beloved children. And they have also diverse clothing and shape to look on than other folk have; for they wrap their heads in red linen cloth, in difference from others. And the Saracens wrap their heads in white linen cloth; and the Christian men, that dwell in the country, wrap them in blue of Ind; and the Jews in yellow cloth. In that country dwell many of the Jews, paying tribute as Christian men do. And if ye will know the letters that the Jews use they be such, and the names be as they clepe them written above, in manner of their A. B. C. Aleph Beth Gymel Deleth He Vau Zay Heth Thet Joht Kapho Lampd Mem Num Sameth Ey Fhee Sade Coph Resch Son Tau
---
Nehar Deah, Beshalach
How does the Song of the Sea sound like in Aramaic?
"I will sing to Hashem, for He is highly exalted; the horse and his rider He has thrown into the sea" (Shemot 15:1) – these words open the song which Moses and the children of Israel sang after they crossed the Red Sea. These words are repeated by Miriam and the women who come out after them with "tambourines and dancing" (ibid, verses 20-21). This famous song – which is the reason we call the Sabbath on which we read the portion of "Beshallach" by the name "Shabbat Shira" (Sabbath of the Song) – also serves as the Torah reading for the seventh day of Passover, which is the day on which tradition holds that the splitting of the Red Sea took place. (con'd)
Professor Avigdor Shenan, Department of Hebrew Literature
Ancient Literature – Memar Marqah
At the basis of the faith and culture of the Samaritans, with roots tracing back to ancient times, lies three works. The first in status is the Torah. The Samaritans hold the Torah as being holy, but their version is not always identical to ours. The rest of the books of the Bible, the Prophets and Writings, do not have the same stature in the eyes of the Samaritans since they separated from the Jewish nation before these books were recognized as holy. The book which is second in status is a translation of the Torah to Samaritan Aramaic, a translation which has a clear link to the Aramaic translations created amongst chazal (see the main section above). The composition which is third in status is "Memar Marqah", a work by the great Samaritan writer, Marqah, who lived in the land of Israel in the third and forth centuries. (con.t) For the full article, please visit:
http://www.jajz-ed.org.il/torani/nehardeah/beshalah.html
---
Thank you!
We would like to thank you for visiting our website,
The-Samaritans.com
in the past and hope you visit us again real soon. We ask you to forward this Update to your friends. The purpose at our web site is the education of the existence and history of the Samaritan-Israelites, descendants of the ancient Kingdom of Israel. Recently we have been working on expanding our web site. We do hope you enjoy visiting our site and recommend it to your friends. Again we thank you for visiting us at
The-Samaritans.com
. Take care and may you be blessed!