March 27th, 2003
In This Issue
Snow on Mount Gerizim

The Samaritans and Their Barbecue

Associated Press Helps to Promote Knowledge of the Samaritans

The Hexaglot Pentateuch

Book Review
---
The Samaritan Update, a bi-weekly Internet Newsletter is a division of the-samaritans.com.
Subscription is free via E-mail only.
-----
Editor: Shomron
Co-Editor: Osher
Sassoni
Staff Writer:
Staff Photographer:
Eyal Cohen
Staff Translator:
Guy Tsabary
Special Contributors: A. B. News Services
----
Contact information:
Shomron@Yahoo.com
---
and to our
---
Support Us
to Serve you Better!
See Our Financial Endowment page located at our main Website.
---
The Samaritan Passover Sacrifice this coming year
will occur on April, 15th, 2003
This will be the evening of the 14th day of the first month of the 3642 year
since the Israelites entered the land of Canaan.
---
Our Discussion Board is Active at Our Website!
You may be surprised at what you may learn At our Discussion Board!!!!!
---
WANTED:
Spanish and French Translation Editors for establishing a new Spanish and French sections on our web site.
Please contact:
Shomron
---
Support and Visit Our Web Based Store
From Books to a Samaritan Interactive CD-ROM works on Windows or Mac PC. Exhibiting many photos and mini-movies. It addresses the Samaritan religion, their chronicles, community, language and literature. The Samaritan Singers reform (Osher sings with them on this cd-rom) their music on the CD-ROM. It is full of information.
Other items: Samaritan Cookbook in Hebrew,
CD of the Samaritan Singers Assembly,
Check it out today!
Or if you are looking for something different. Interested parties can contact us at webmaster@The-Samaritans.com
---
Get your free
E-mail Address from www.The-Samaritans.com/ . Just go to our web site and find
"get a free e-mail address" or go to http://samaritan.i-p.com/ and register.
Let people know you are involved with the Samaritans.
---
Subscribe to the
A.B.- The Samaritan News- A Bi-Weekly Newspaper, Written in Four Languages.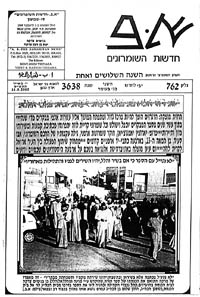 Since December 1969.
POB 1029, Holon 58 110, Israel or
E-mail Benyamim and Yefet Tsedaka: tsedakab@netvision.net.il
Back Issues Are Available.
Mount Gerizim, All the Days of Our Lives
---
Snow on Mount Gerizim
When it snowed this mouth, mount Gerizim was covered in white. Below is the center where the Passover sacrifice will be held next month on April 15th.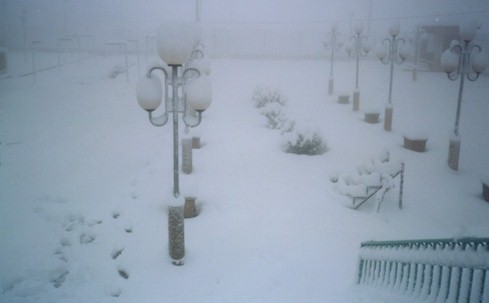 ---
The Samaritans and Their Barbecue: The Passover Sacrifice
By Shomron
There are five major Samaritan-Israelite families, the Cohen (Levites), Danif, Marhib, Tsedakah and Sassoni. All the families are represented in both of the Samaritan communities in Holon and Kiryat Luza on Mount Gerizim. Their total number of both communities as of January 1, 2003 was 656 souls.
Each member of the communities will partake in their yearly barbecue, the Passover sacrifice on Mount Gerizim. While many nations around the world celebrate their special days with distinctive foods that include roasted meats, the Samaritans also have their own style of a celebration that dates back to the time of Moses. Their Samaritan barbecue is unique in as much as it was directed by God as a memorial to take place every year.
Some individuals may find the slaughtering and roasting of lambs repulsive, but this is a limited view that is not shared by the minds of intelligent people. The slaughtering of these lambs is done in the most humane way. In many places around the world the animal is killed in an extreme painfully shocking slow death.
The idea of a sacrifice also raises the eyebrows of many that do not realize the concept. In their eyes a sacrifice is not needed and is out of date. Yet, these people (excluding a few) still eat meat that comes from butchered animals and they know not what they are eating. A number of grocery stores re-date their outdated meats, restocking them on the shelves to be sold. Between the chemicals that are feed to the animals and the physical condition of the animals at their time of slaughter make for very unhealthy meat. I once seen an animal that went to market with its hind quarter full of gangrene. In Florida, alligators and hog roastings are part of celebrations. These animals also had to be killed and were most likely killed by bulldogs. In Texas, large numbers of cows are killed for their large barbecues, not to mention that most cows are killed by a blow to the head by a slug hammer. Deer hunters may shoot a deer with a arrow or a gun, later to find that it had run a mile and a half before it finally dies. What a way to die!
So when it comes to the Samaritan's Passover sacrifice, their barbecue if you will, is humane by a very sharp knife to the throat. This is done only once and the meat is fresh, and is inspected before it is placed in the ground oven (tannur). The killing of their animals is not outdated but may I say, has always been respectable to the animal. It is a wonderful thing that the families of the Samaritans have kept their ancient traditions throughout all these years.
The idea of this short article is not meant to be a kick in the teeth to you, but for you to realize that the Samaritan Passover Sacrifice in it's own style, is a memorial barbecue. The standards of the people of the world seem to prefer the usage of 'barbecue' over 'sacrifice.' And also you must remember that the word 'sacrifice' existed long before the the word 'barbecue.' So if you happen to be discussing the Samaritan Passover Sacrifice with someone that does not like the idea, throw in the word 'barbecue' and see what they think!
---
Associated Press Helps to Promote Knowledge of the Samaritans
An article by Jason Keyser on Thu, Feb. 06, 2003, entitled, 'Biblical Samaritans Caught in the Middle' was released through the Associated Press. The article was picked up by numerous newspapers and news websites. The article which as be seen at the first link, helped to expose the knowledge that the Samaritans exist today. Jason Keyser helped to expose the knowledge to the world that the Samaritans still exist today and that they are caught in the mist to the conflict in the West Bank. This is a big problem for Samaritans today. Thanks to the Associated Press many people now have some knowledge of the problem of the small religious sect of the Samaritans. Below is just a few of these websites that hosted the article by Jason Keyser. http://www.myinky.com/ecp/world/article/0,1626,ECP_789_1731914,00.html
www.timesleader.com, www.macon.com, www.grandforks.com www.duluthsuperior.com www.ledger-enquirer.com www.aberdeennews.com www.kentucky.com/ www.kansascity.com www.montereyherald.com www.fortwayne.com www.philly.com www.centredaily.com www.grandforks.com www.myrtlebeachonline.com www.ledger-enquirer.com www.duluthsuperior.com www.aberdeennews.com www.philly.com www.bayarea.com www.timesleader.com www.kansas.com www.belleville.com www.sunherald.com www.bradenton.com www.ohio.com www.twincities.com www.tallahassee.com www.siliconvalley.com www.belleville.com www.broward.com www.sanluisobispo.com www.centredaily.com www.thestate.com www.miami.com wire.dailynews.net www.charlotte.com www.sanluisobispo.com www.guardian.co.uk customwire.ap.org asia.news.yahoo.com www.beliefnet.com www.newsday.com/ www.washingtonpost.com www.realcities.com www.mcall.com www.teamtulsa.com www.prolog.net www.miami.com www.jsonline.com www.malcolmshabazzmarket.com heraldsun.com www.rr.com www.sojo.net www.ptd.net www.msnbc.com 620ktar.com www.newshub.com www.prolog.net kids.networks.org news3.lycos.com www.ktar.com www.malcolmshabazzmarket.com www.aedpregnancyregistry.org jawbone.clarkston.wednet.edu mymotherlode.com www.palma.com www.npl.com www.freeprivatecapital.com www.bibleinterp.com www.wciv.com www1.gosanangelo.com www.mysanantonio.com www.dfw.com www2.nynewsday.com www.homestead.com www.cincinatti.com news.networks.org partners.nytimes.com www.cincypost.com www.omaha.com fox29.com europe.cnn.com newsisfree.com www.jewish.net www.startribune.com ardemgaz.com www.americanvoiceinstitute.org indianews.sumanasa.com wtop2.com www.einnews.com www.itsamystery.ca www.rocketnews.com www.mysanantonio.com www.thejournal.net
---
The Hexaglot Pentateuch or the Five Books of Moses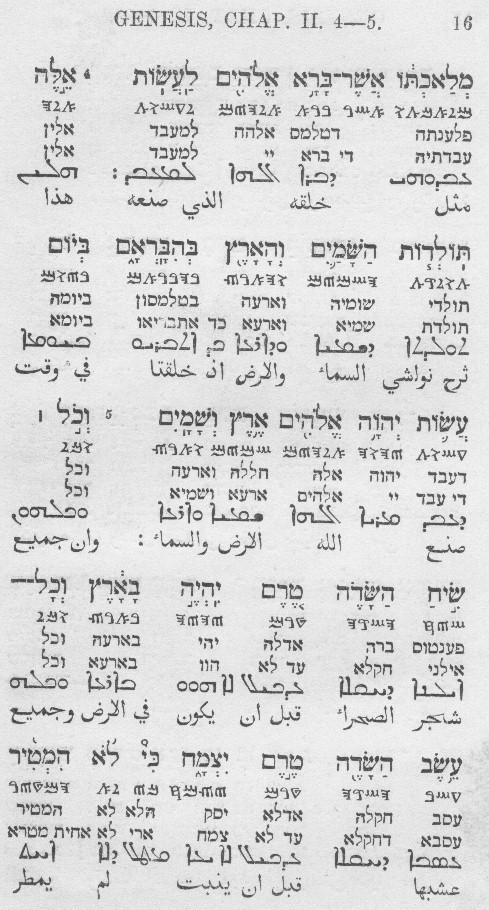 in Original Hebrew, with corresponding
Samaritan, Chaldee, Syriac and Arabic
Edited by Robert Young
The History of Adam
Edinburgh; Robert Young,
Oriental Bookseller, Publishers, and Printer,
Head of the Mound.
1852
---------
PROSPECTUS OF A HEXAGLOT PENTATEUCH
I. The benefits to be derived by Biblical and Philological Students from a comparison of the ORIGINAL HEBREW TEXT with the ANCIENT VERSIONS are too well known to require any lengthened proof. Hence the several POLTGLOT BIBLES which have been published at different times. The INTERLINEAR system, too, has several important advantages, especially in those cases where a similarity exists between the Languages made use of. This is particularly the case in the present Work, as all the six Languages are intimately connected with each other- descended from the same common stock.
II. The Languages and Versions employed are:-
1. The Original HEBREW Text, from Vanderhooght.
2. The HEBREW-SAMARITAN in its original Character.
3. The CHALDEE-SAMARITAN Version, or Translation of the Pentateuch into the Samaritan Language, a dialect of the Aramaean. It is thought unnecessary in printing this version to use the Samaritan character, as it can be equally well expressed by the usual square Hebrew type, which, moreover, enables the student to perceive the similarity of the dialects at a single glance.
4. The CHALDEE Version of ONKELOS, from Walton, with a collation of landau's edition of Mendelson.
5. The SYRIAC Peshito Version, from the texts of Walton and Lee.\
6. The ARABIC Version of Saadiah Gaon, from the texts of Walton and Carlile.
III. The Work will be completed in FIVE VOLUMES demy octavo, same size of page as specimen annexed. Each Book of the Pentateuch will form a volume by itself.
It is proposed also to issue Grammars and Vocabularies of the Languages which are employed in this Work, of which full particulars will be given at the completion of the FIRST volume.
(Click on the image for a larger view)
---
Book Review: Organum and the Samaritans

From the Editor

The sixty-one page booklet, Organum and the Samaritans was written by a Russian born(1899) orthodox Jew named Menashe Ravina. The booklet was translated from Hebrew by Alan Marbe into English in 1963. The word 'organum' in simple terms is parallel singing in much ways as the popular song row, row your boat is song by groups. This organum is a basic presence in Samaritan verse of songs and prayers. One can be reminded of the 'Song of the Sea' (Exodus XV) the very song sung by the Samaritan Assembly found in the section of Sounds, on our home page of the-samaritans.com . Ravina wrote, "One thing is clear: the sound is very ancient." Imagine Moses singing the melody with the Israelites repeating each word in a similar fashion. Very few books outside of the Samaritan community concerning give information on the activities inside their synagogues. Menashe Ravina gives much respect to the Samaritans in his work. The book is more than an education of a Samaritan style, it is a history book as well. Highly Recommended.

Also be sure to read the review written by Dr. Yigal Levin on the book by Robert T. Anderson and Terry Giles, The Keepers.

Dr. Yigal Levin, Department of Philosophy and Religion, University of Tennessee, 615 McCallie Avenue, Chattanooga, TN 37403-2598, USA

http://www.journalofbiblicalstudies.org/Issue6/The_Keepers.pdf
---
WEB LINKS
The Origin and Nature of the Samaritans
and their Relationship to Second Temple Jewish Sects
By David Steinberg
http://www.adath-shalom.ca/samaritan_origin.htm#Annex2
--------
Bar-Ilan University's Parashat Hashavua Study Center
Parashat Va-Yetze 5763/ November 16, 2002
The Samaritans - Their Origins, Heritage and Holy Days
Dr. Yaakov Geller
The Paul and Helene Schulman Center for Basic Jewish Studies
http://www.biu.ac.il/JH/Eparasha/vayetze/gel.html
---
Thank you!
We would like to thank you for visiting our website,
The-Samaritans.com
in the past and hope you visit us again real soon. We ask you to forward this Update to your friends. The purpose at our web site is the education of the existence and history of the Samaritan-Israelites, descendants of the ancient Kingdom of Israel. Recently we have been working on expanding our web site. We do hope you enjoy visiting our site and recommend it to your friends. Again we thank you for visiting us at
The-Samaritans.com

. Take care and may you be blessed from the Holy One from above

.