Mystery comes to an End
By Sue Ruzek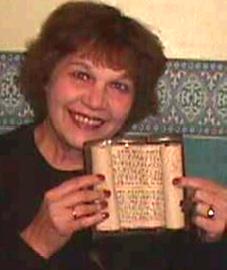 This scroll was purchased at a little country auction in Monrovia, Indiana, around 1994. Untold hours have been spent trying to track down the language. The writing is small, with 24 lines beautifully squeezed onto 5" of paper.
The case is tin, crudely soldered, and decorated with nail impressed "V's". From the look of the marks going around the edges, one could easily think it was fashioned from a tin can. However, the marks on one piece do not appear to be parallel. And the flat places around the "V's", seem to result from the stress of bending. Tin cans were available in the early 1900's, so these small scrolls could have been made from cans or flat stock. Size of the metal body is 6 5/8" by 2 1/2" diameter. It has one 3" plain handle, one 2 ¾" with decorations, and a like one 3". Handles on this scroll are not now soldered, but it would be 11 1/2 " long put together.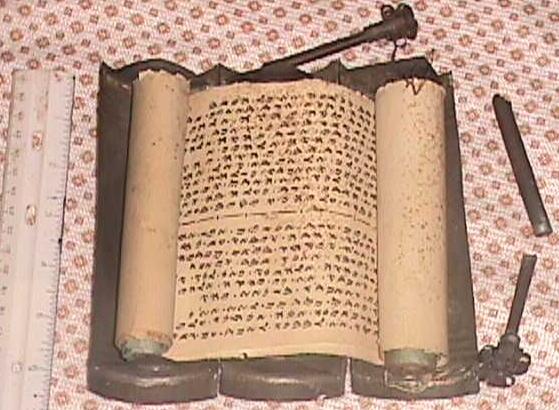 The paper with the main writing is 5 inches high, by about 7 ½" long. This paper was twice single stitched to a paper backing that runs between the paper cores, and is glued in place. I think of the back paper as a "carrier" sheet. The papers have age marks, but don't seem very old. Light green and buff papers are rolled to make the cores. Two single stitches go right through a portion of the cores, carrier sheet, and verse sheet. If the stitches were in place, one would be unable to read all the writing! Also, the "carrier" sheet has a few numerical columns and a short notation in another language. This writing was on the paper before it was glued to the core. This made the scroll initially appear to be something used. Additionally, there is evidence that a prior carrier sheet was ripped from the core. In retrospect, the first carrier may have been ripped, and carefully replaced with scratch paper. However, there are just two holes in the sheet of verses from the current stitches. Believe this is similar to Shomron's scroll. The verse sheet shows about thirteen holes along the right side. Perhaps this is how it was stitched to a previous carrier sheet.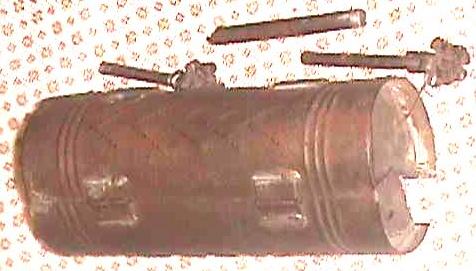 So that is the overview, but not the attempts at getting answers. They came when I talked to Bill Griffin, Atlanta, who's into technical recruiting and placements. His contacts in foreign countries got negative replies from Japan, China, Korea. etc.. Then he contacted Dr. Sheldon Natowsky, who forwarded more inquiries right into Israel! Professor Mosche Ben-Zion, got involved, and forwarded it to Professor Ora R. Schwarzwald who sent it to Professor Gad Ben-Ami Sarfatti, who identified the language. They are from the Department of Hebrew and Semitic Languages, Bar-Ilan University. It is Samaritan!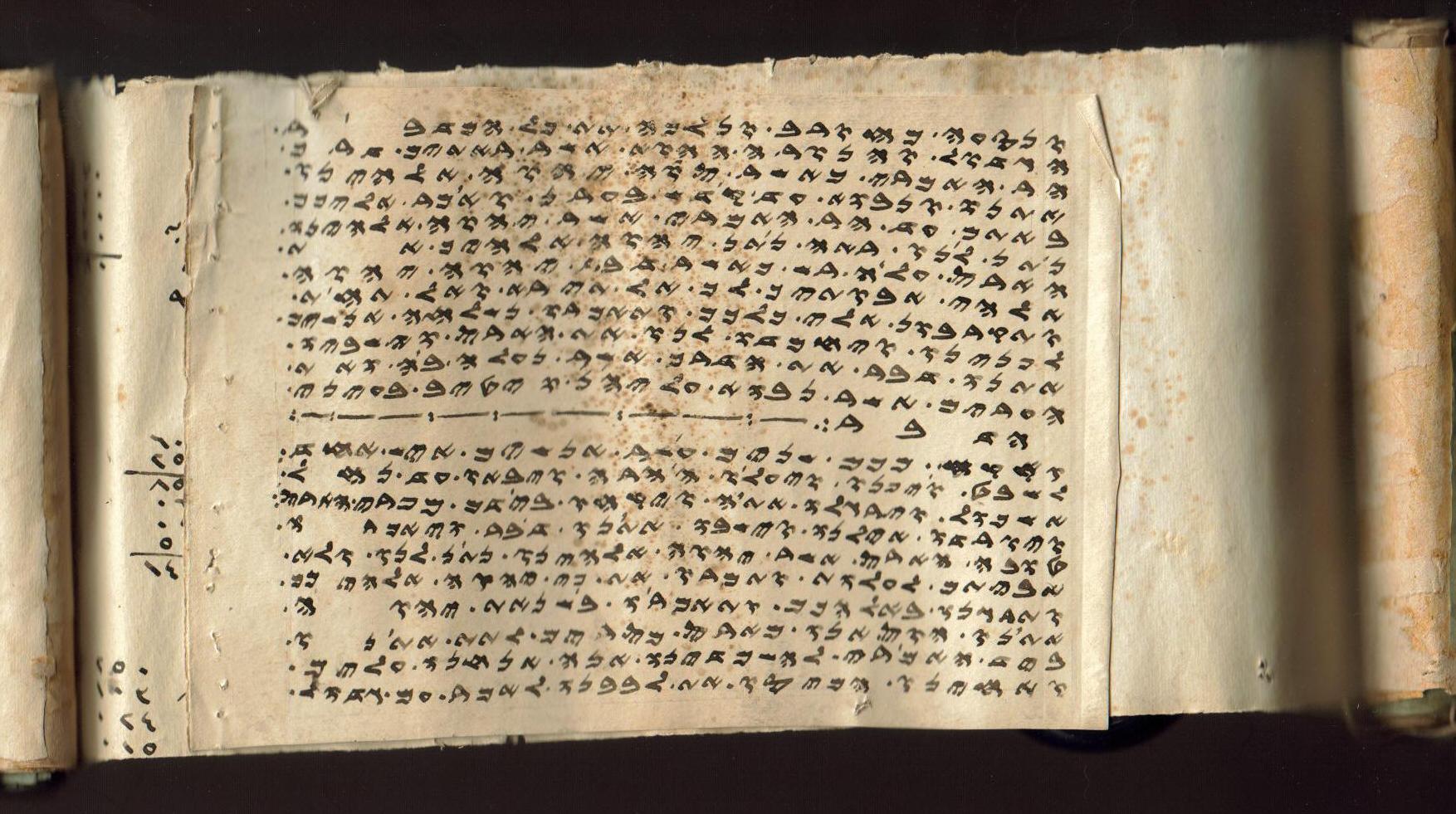 Then I found a Samaritan wedding certificate at the Library of Congress! It was goose bump time! There was that so familiar yet elusive alphabet! Another computer search found "The Samaritan Update" which had photos of a similar scroll owned by Shomron. We emailed a few times and spoke on the phone, comparing scrolls. This one is a bit larger, but they share much, including the colors of the core papers, stitching and tear marks.
Shomron contacted Benny Tsedaka who kindly deciphered it as verses from Deuteronomy 1:19ff. It was written by the High Priest Ab-Hisada b. High Priest Yacob b. Aaron, who died in 1959 in Nablus. Benny also mentioned that there was a scroll in a New York University, and he was aware of others in personal collections. About then, came another confirmation on the verses from Professor Moshe Florentin, Department of Hebrew and Semitic Languages, of Tel Aviv University.
It's fascinating to think that this little scroll was so carefully written by a known High Priest, sold to a tourist in Israel, brought to the states, and ended up in Indiana. From here it was electrically transmitted around the world by friendship, curiousity and kindness.
Thank you all! Sue Ruzek
```````````````````````````````````
The Archaeological Center, founded in 1979, sells antiquities and ancient works of art. Are this replicas or originals?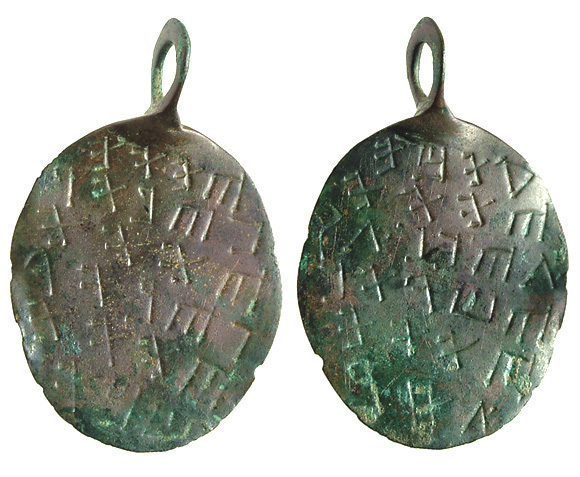 Inscribed Samaritan Bronze Pendant. The Bronze Samarian inscription reads: Obv: "Yahweh is Hero, Yahweh is Hero, Yahweh is His Name". Rev.: "Stand up Yahweh, there is none like the God of Yeshurun Yahweh is One"..item 33-064; $800-1000 estimated, $1250 realized) Period: 6th-7th century AD Dimensions: Height: 5.4cm
Condition: Perfect
Two Samaritan Bronze Signet Rings Both depicting Mount Gerizim. Ex Jonathan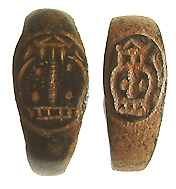 Jerushalmi collection, Ramat Hasharon.
(item 35-094; $200-250 estimated, $291 realized) Period: Roman Period, 2nd-3rd century AD Condition: Very good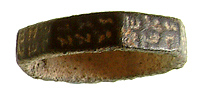 A Samaritan Inscribed Bronze Ring Ex Jonathan Jerushalmi collection, Ramat Hasharon.
(item 35-095; $500-600 estimated, $448 realized) Period: 4th-5th century AD
Dimensions: Diameter: 20mm
Condition: Very good

A Samarian Bronze Ring With four lines of Samaritan inscription.
(item 28-351; $500-600 estimated)
Period: 6th-7th century AD
Dimensions: Height: 5.4cm
Condition: Perfect
Inscribed Samaritan Bronze Ring. Inscription reads: 1) There is none like the God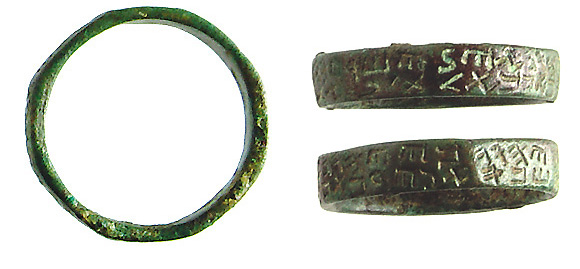 of 2) Yeshurun 3) Yahweh is God 4) Return Yahweh 5) Yahweh is Eternity 6) Yahweh is His Name 7) I am 8) Yahweh, your Healer. Period: 6th-7th century AD
Dimensions: Diameter: 20mm Condition: Perfect (item 33-063; $600-800 estimated, $935 realized)
http://www.archaeological-center.com/

The Earliest Samaritan Inscriptions
Bob Becking Utrecht University
The origins of Samaritanism are still hidden under the dust of the past. Still is also the case with their *theology*. It is not until the third/fourth century CE that Samaritan theology is known as a more or less coherent world-view (Defter and Tibat Marqe). This religious worldview must have had its roots. Traces can be found in older documents, e.g., some variant readings in the Qumran texts.
Recently, a set of Samaritan inscriptions have been found and edited. They emerged in official excavations at Mt Gerizim and date from the Hellenistic period if not earlier. I would like to examine these texts for the presence of specific elements of the Samaritan religious world-view in them. I hope to prove that in the fourth century BCE there already existed a Samaritan identity.
I am fully aware of the fact that the written evidence under consideration does not solve the riddle of the origins of the Samaritans. But some dust is blown away.
http://www.uni-muenster.de/CentrumGKM/termine/juda/vortrag_becking.html
```````````````````````````````````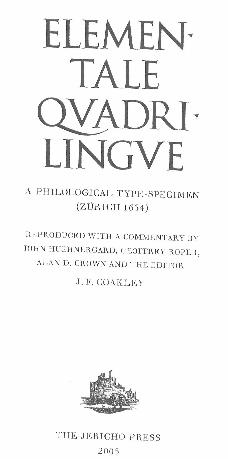 Elementale quadrilingue: a philological type-specimen (Zürich 1654) reproduced with a commentary by John Huehnergard, Geoffrey Roper, Alan D. Crown and the editor J. F. Coakley
A Limited number of 100 Books and Selling
http://www.people.fas.harvard.edu/~coakley/jericho.htm
```````````````````````````````````
Parallels
By Shomron
I shall try to add a parallel article concerning the Samaritans to the next updates of the future. The parallels maybe of the Chronicles, legends, Torah or of interest.
Web Links
Samaritan Hebrew Bible (MS, Nablus, 1232).
The New York Public Library, Manuscripts and Archives Division
http://www.fathom.com/course/72810016/s1_4_z14.htm
PENTATEUCH, THE SAMARITAN
J. E. H. Thompson
http://db.bible.org/isbe.asp?id=6794
Exciting Finds from the First and second Temple Period are being uncovered by the
Israel Antiquities Authority
http://www.antiquities.org.il/article_Item_eng.asp?sec_id=25&subj_id=240&id=787&module_id=#as
Review: The Lost Temple of Israel
Zvi Koenigsberg
http://www.askwhy.co.uk/judaism/0345LostTemple.html
```````````````````````````````````
Biblio Addition
Old Documents and the New Bible
by J. Paterson Smith, LL.B., B.D. Senior Modertor and Gold Medallist, Primate's Hebrew Prizeman... Trinty College, Dublin,
Publisher: Sampson Low, Marston & Company, London, Feb. 1890 is date on Preface. Document No. I, THE PENTATEUCH OF THE SAMARITANS Page 118-125