In This Issue
New Samaritans

Note

COOKBOOK

Slides

Internet links

Biblio
---
The Samaritan Update, is a Monthly Internet Newsletter, a Division of The-Samaritans.com.
Subscription is free via E-mail only.
-----
Editor: Shomron
Co-Editor: Osher
Sassoni
Staff Writer:
Staff Photographer:
Staff Translator:
Special Contributors:
----
Contact information:
---
and to our
---
Subscribe To the Newsletter -The Samaritan Update.
Sign Up !
---
Samaritan
Studies and Related Conferences:
See this issue
In Planning Stage
SES: In University of Papa/ Hungary in 2008.
organised by Dr. Joseph Zsengelle'
---

Plan on buying a Book? Buy through us and support our main website: www.the-samaritans.com

Have you purchased your book lately?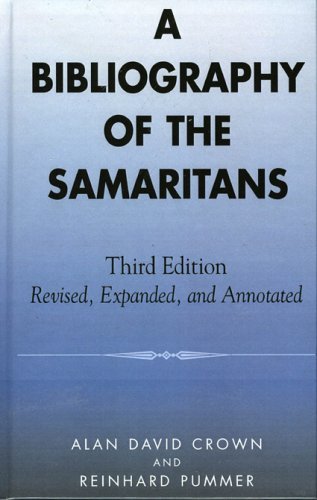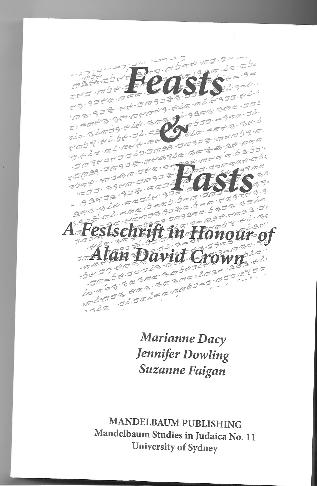 Feasts & Fasts, A Festschrift in Honor of Alan David Crown
Available from www.mandelbaum.
The Samaritan Passover Sacrifice will take place on Mount Gerizim beginning in the late afternoon Monday on April 30th, 2007.
May 1st begins the 7 days of Unleavened Bread
with the 7th of May being the Pilgrimage to the peak of the mount.
To visit the Samaritan Passover contact yeheskel@gush-etzion.co.il with their tour to Mount Gerizim.
``````````````````````
New Samaritans- A DOCUMENTARY on Samaritan bri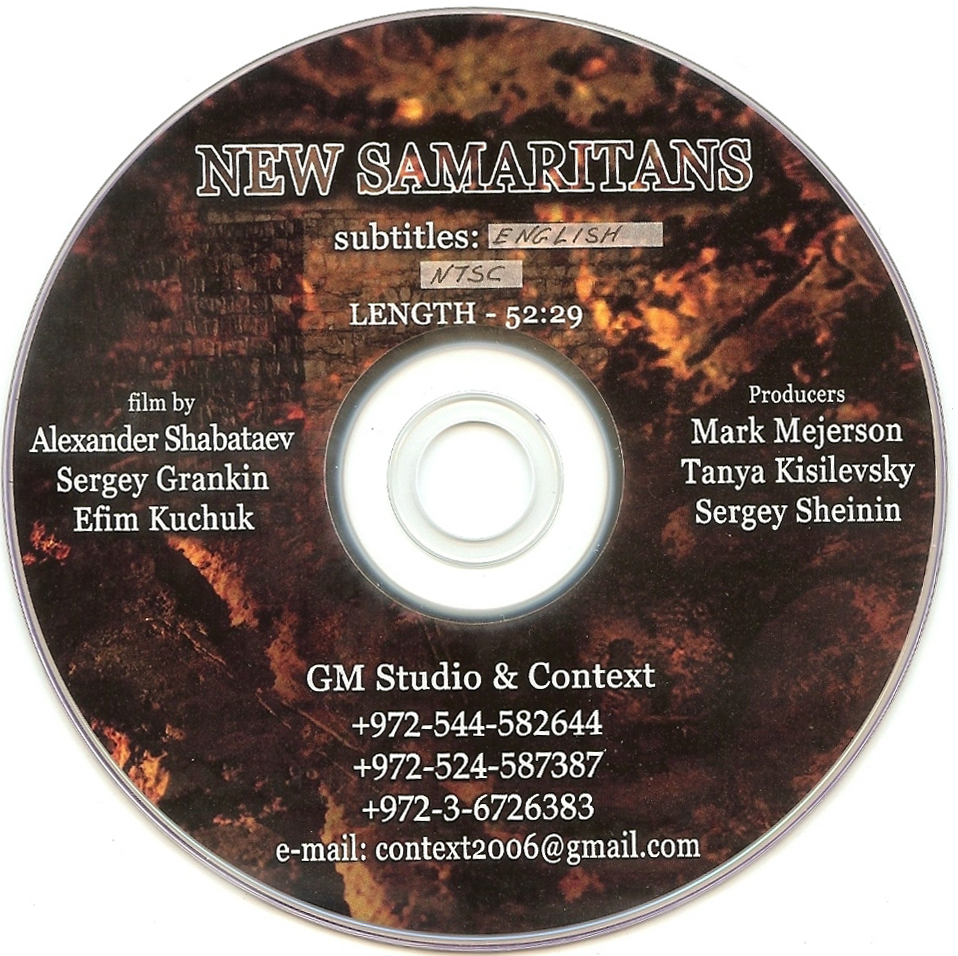 des from the Ukraine:
- 52 min 29 sec [22 March 2007]
For over 3,600 years, the ancient community of Samaritans have only intermarried. Today they number only a few hundred and inbreeding has caused serious problems. On the brink of extinction, their leaders take the unprecedented step of allowing two lucky men to marry foreigners. We follow them as they set off to faraway lands in search of brides. How will their new wives adapt to life in the Samaritan community?

Surrounded by old men chanting prayers and children dressed in traditional robes, Shura looks completely out of place. She smoothes down her scarlet dress and looks around the room at her new family. A few months ago, Shura was signed up by a matchmaking agency in Ukraine. Now, she has just married into the Samaritan's First Family.
http://www.journeyman.tv/?lid=57186

Filmmakers Efim Kuchuk and Mark Mejerson in attendance

Aramaic, Russian with English subititles

The parable of the "Good Samaritan" is well known but few realize that the Samaritans are an existing community of people which can trace their history for over 3600 years. In an attempt to refresh the blood of this ancient nation, the Samaritan spiritual leader has taken the unprecedented step of allowing intermarriage with foreigners. Follow the journey of the first two lucky men as they set off to faraway lands in quest of brides. - Jason Kmet

Director: Alexander Shabatev, Sergey Grankin, Efim Kuchuk
Producer: Mark Mejerson, Tanya Kiselevsky
Screenwriter: Alexander Shabataev, Sergey Grankin, Efim Kuchuk
Cinematographer: Alexander Shabataev
Editor: Efim Kuchuk
Music: David Krupnik

Also see

http://www.caje-miami.org/upimagescaje/MJFF%20Samaritans.pdf
```````````````````````
Note on the New Samaritans film
I recently viewed the documentary, 'New Samaritans' and after it was over , I had a lose for words. All I could think was WOW! It was so very well done. I would have paid to fly someplace just to see it. It is a wonderful DVD to show your class or friends or just to add to your library. It is a great introduction to the Samaritans at this time. Buy it, it is well worth the money, trust me! I now have one! If you do not like it I will pay it from you, just to have extras to lend out to friends. Guys, you did a wonderful job on this, thank you!
I contacted Rimma Kushnir from Media Most in Israel. Rimma informed me that the producers were hoping to do more documentaries on the Samaritans and their festivals. This should be a wonderful series and will hopefully be viewed on TV in many countries around the world, but funding may be limited. So if you feel the need to help support any of their projects contact the Editor and I shall have them contact you straight away. The projects will be posted on the of the Samaritan Update as soon as I receive them, so keep you eye open for them.
Past showings have been the Miami Jewish Film festival 2006, British BBC, Calgary Film Festival 2006, International Documentary Film festival Amsterdam 2006, to mention a few. The movie will appear at the Sun Valley Spiritual Film Festival in Idaho on September 14-16, 2007. http://www.svspiritualfilmfestival.org/program_2006.php
also see:
Ancient community seeks brides abroad
By Martin Patience
BBC News, Kiryat Luza, West Bank
http://news.bbc.co.uk/2/hi/middle_east/6333475.stm
``````````````````````````
Gerizim (ger'uzim, gērī'–), Arabic Jabal at Tur, mountain, 2,890 ft (881 m) high, in the Samaritan Hills, in the West Bank.
``````````````````````````
AN APOCRYPHAL COOKBOOK FROM THE TIME OF MOSES!!!
Ancient Israelites Snacked on 'Pizzoh,' Historians Reveal
By Bob Michael March 26, 2007

RAS SASAFEH, Egypt. -- The discovery of an apocryphal cookbook, likely written in the time of Moses, promises to change Passover traditions worldwide.
"The Israelites had a pretty limited menu, and frankly they were bored," said Biblical scholar Ruth Meqabyan. "We have strong evidence that they began to sculpt exotic cuisine in dough in order to alleviate the crunchy boredom of matzoh."
Adornments included the addition of olives, figs, lentils, medallions of whole-roasted lamb, and grated manna.
The decorated flatbread, called 'pizzoh,' resembled Neopolitan-style thin-crust pizza. Deep-dish variants required over eighteen pounds of flour per serving.
Another cutting-edge discovery from the Weekly World News.
http://www.weeklyworldnews.com/stories/98
"Ya right; I can tell that this is not the ancient Hebrew they once used!" the Editor of the Samaritan Update
````````````````````````
Unique Slides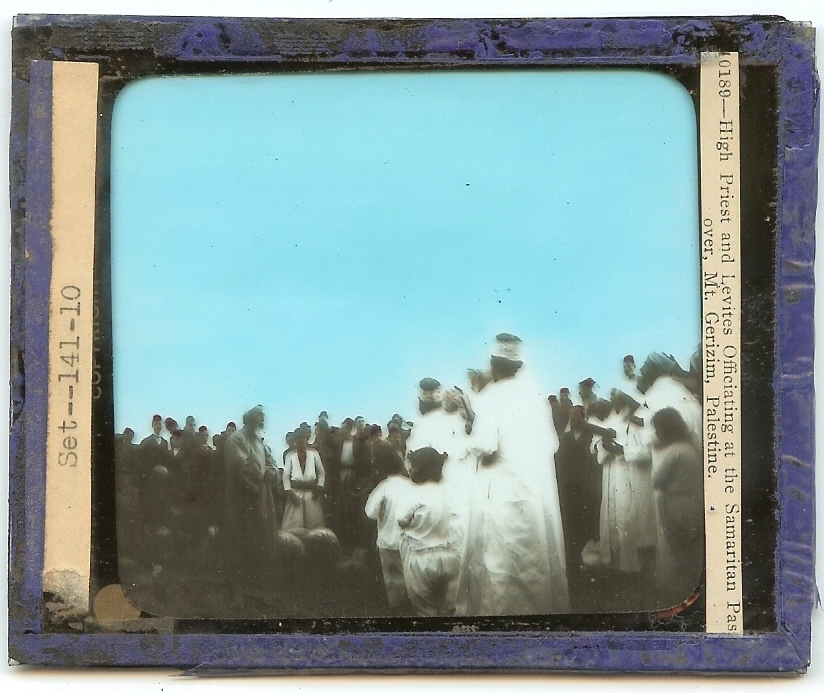 Late 1910ish Magic Lantern Slide at Passover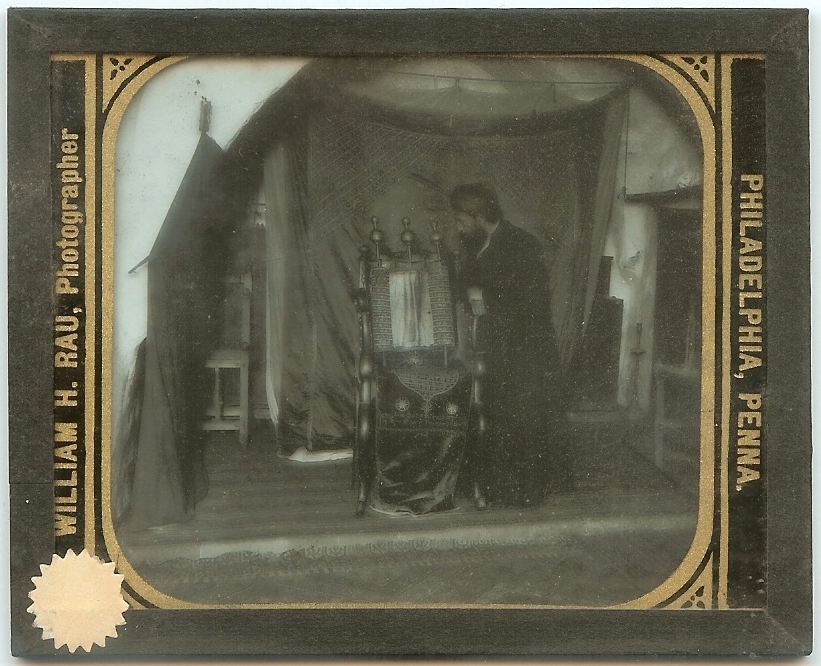 1903 Magic Lantern Slide
All slides that you have seen in the Samaritan Update will be given to the Samaritan Museum
``````````````````````````
The Link to the updated website of the
Samaritan Museum on Mount Gerizim.
````````````````
Internet links
Les Samaritains: Israeliens et Palestiniens à la fois.
Photos: ©Ahikam Seri/Lightmediation
Some wonderful photos of the 2006 Passover
http://www.lightmediation.com/blog/podcast/november/samaritains.pdf
The Samaritans in Time-1959
http://www.time.com/time/magazine/article/0,9171,811066,00.html
This Week in Palestine -Samaritan Article
http://www.thisweekinpalestine.com/i107/pdfs/March%202007.pdf
Israeli Sings for Her Estranged People
Sunday, March 18, 2007
http://www.townhall.com/News/NewsArticle.aspx?ContentGuid=184a9715-aa79-4bd8-a915-1523e0fe6d9a
The Real Samaritans
MT. GERIZIM, Palestinian Territories, April 14, 2006
http://www.cbsnews.com/stories/2006/04/14/eveningnews/main1501069.shtml
National Sound Archive
Az yashir Moshe National Sound Archive, Jerusalem 1966 2:9 sec
("Then Moses sang", Exodus 15:1-11). Song of the Sea with the refrain "Kharzin we-amarin" for the seventh day of the Samaritan Passover, sung by Razon and Benjamin Zedaka. Recorded by Avigdor Herzog in Jerusalem, 28.11.1966
http://www.museumonthego.com/index.php?id=50&detail=448
The Samaritans of Nablus by Mohammed Mar'i
http://www.arabisto.com/p_blogEntry.cfm?blogEntryID=401
Samaritans look further afield to find their future
The last of an ancient sect have turned to eastern Europe to safeguard their survival, reports Martin Chulov from Jerusalem
http://www.theaustralian.news.com.au/story/0,20867,21161015-2703,00.html
Samaritans on Youtube.com by Jonny Stranger
https://www.youtube.com/watch?v=qmLW1j-F4XA
~~~~~~~~~~~~~~~~
Biblio:
Zramim Vkitot Bayahadut"
By Avraham Kurman
Printed in 1966
Orthodox view of different Jewish faith movements
From content:
Judaism, Hassidism, Vilna Gaon influence. Samaritan, Zadokim –Beitusim. Issim. Kraits. Yodei Mikra , Mosaraniim. Shabbathians, Haskalah . One of best accounts from the view point of orthodox Jewry.
PAYNE, TIMOTHY OTIS
Soloman''s Temple and Capitol, Ark of the Flood and Tabernacle or The Holy Houses of the Hebrew, Chaldee, Syriac, Samaritan, Septuagint, Ceptic, and Itala Scriptures; Josephus, Talmud, and Rabbis. Boston: Houghton, Mifflin & Co., 1886 2 vols. Folio, cloth boards, gilt edges. Contains 42 full page plates and 120 text cuts.
Title: A Visit to Madras; Being a Sketch of the Local and Characteristic Peculiarities of that Presidency in the Year 1811.{With} Letters from Africa, by Signor Travideani, or Averiro, to Canova, the Sculptor.
Publisher: London: Richard Phillips, 1821
Christian Herald and Signs of our Times vol. 17, nu,36. New York September 5, 1894 'Twixt Ebal and Gerizim
Canon Hammond, LL.B., "Samaritan Passover of 1861," Journal of the Transactions of the Victoria Institute 36 (1904):
Canon Garratt, M.A., "Samaritan Text of the Pentateuch," Journal of the Transactions of the Victoria Institute 36 (1904):