February 13th, 2003
In this Issue
A New Samaritan Baby Born in February, 2003

The Good Samaritan in the Middle of the Fire

Mary Frere's Collection

Samaritan DNA

The Origin and Nature of the Samaritans
---
The Samaritan Update, a bi-weekly Internet Newsletter is a division of the-samaritans.com.
Subscription is free via E-mail only.
-----
Editor: Shomron
Co-Editor: Osher
Sassoni
Staff Writer:
Staff Photographer:
Eyal Cohen
Staff Translator:
Guy Tsabary
Special Contributors: A. B. News Services
----
Contact information:
Shomron@Yahoo.com
---
Support our websites by informing your friends of the Samaritan/ Israelites and our web sites
and to our
---
The Israeli 2.60 sheckel denomination of the Israel February 18, 1992 stamp issue honoring the Samaritans.

---
We added a few new articles at our website, so gain knowledge today!
---
WANTED:
Spanish Translation Editor for establishing a new Spanish section at our web site.
Please contact:
Shomron
---
Support and Visit Our Web Based Store
From Books to a Samaritan Interactive CD-ROM works on Windows or Mac PC. Exhibiting many photos and mini-movies. It addresses the Samaritan religion, their chronicles, community, language and literature. The Samaritan Singers reform (Osher sings with them on this cd-rom) their music on the CD-ROM. It is full of information.
Other items: Samaritan Cookbook in Hebrew,
CD of the Samaritan Singers Assembly,
Check it out today!
Or if you are looking for something different. Interested parties can contact us at webmaster@The-Samaritans.com
---
Get your free
E-mail Address from www.The-Samaritans.com/ . Just go to our web site and find
"get a free e-mail address" or go to http://samaritan.i-p.com/ and register.
Let people know you are involved with the Samaritans.
---
Subscribe to the
A.B.- The Samaritan News- A Bi-Weekly Newspaper, Written in Four Languages.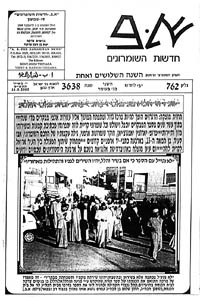 Since December 1969.
POB 1029, Holon 58 110, Israel or
E-mail Benyamim and Yefet Tsedaka: tsedakab@netvision.net.il
Back Issues Are Available.
A New Samaritan Baby Born in February, 2003
Article by Osher Sassoni
Photos by Eyal Cohen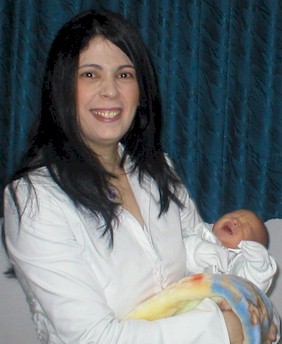 Liad, a newly born Samaritan baby was born on Monday, February third. He is the son of Hannan and Ofra Allatif.
The couple Hannan and Ofra Allatif have been married for four years. They are from the Holon community. The new-born baby is their second one. Their first born child was also a girl named Liel.
Liad, the newborn baby boy had his circumcision on the following eighth day, on Monday, the tenth. The High Priest Shalom, son of Amram officiated the momentous occasion with priests Natanel, son of Abraham and Ovadia, so of Matsliah. Also not pictured but attending was Eleazar, son of Tsadaka. May god bless the new-born Liad, son of Ofra Allatif and give him health, and will keep him to be a man among his people.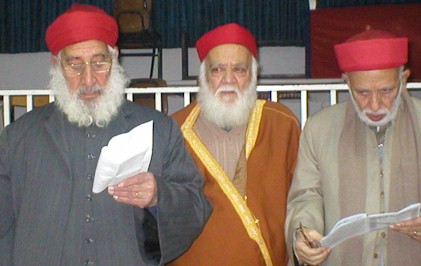 ---
The Good Samaritan in the Middle of the Fire
By Osher Sassoni
Must of us know the famous story, from the new testament, about the Samaritan who found a wounded man on the road and helped him. These days, the good Samaritan needs help, which he is unable to find .
On February 5th, on a Wednesday midnight, a warning message was received from the Israeli paratrooper's positional headquarters on mount Gerizim, located near the Samaritan neighborhood. It was a warning of terrorist's penetration into the area: "the terrorists are in the area already", said the message. The Israeli soldiers took positions got into alertness mode.
while the soldiers were exercising an assault procedure, some bullet clusters were shoot over the big windows of the building (forest garden, some meters from the high priest's house. The two terrorists were hiding behind the inner palisade, some meters from the soldiers. One of the soldiers, sergeant Iddan Suzin was deadly wounded from the first shots. The soldiers rushed to return fire whereas one of the terrorists was hit and died. The commander of the Israeli forces on mount Gerizim, Amir Ben Arye was killed in the attack. A second Israeli unit climbed to the roof of the building, surprised the second terrorist, and killed him. While searching for the second terrorist, two other Israeli soldiers were wounded.
---
Biblical Samaritans caught in Mid-East Whirlwind
By Jason Keyser, Associated Press writer- February 9, 2003
http://www.myinky.com/ecp/world/article/0,1626,ECP_789_1731914,00.html
---
The Samaritan Passover Sacrifice this Coming Year
will Occur on April, 15th, 2003
This will be the evening of the 14th day of the first month of the 3642 year since the Israelites entered the land of Canaan.
----
Our Discussion Board is Active at Our Website!
So Stop By and Visit Us There at the-samaritans.com
---
G
irton
College, Cambridge
Mary Frere's Collection
of Hebrew and Samaritan texts and manuscripts
Copyright of The Mistress and Fellows of Girton College, Cambridge
This article appears with their permission
and may not be reproduced without their consent.

Mary Frere (1845-1911) was the eldest daughter of Sir Bartle Frere, a civil servant and Governor of Bombay and later Cape Colony, South Africa. As a child in England, and when accompanying her parents abroad, Mary loved books and reading. She wrote poetry and published a book of Indian folk stories. Gradually, Bible study became her main interest and she began collecting relevant books. She also learnt Hebrew so that she could read the Old Testament in the original. In 1908, she spent six months at Nablus and was able to buy several manuscript books, some of them from the Samaritan High Priest; these include a small Pentateuch in volume form and a copy of the Book of Joshua.
Girton College had been founded in 1869 and was the first women's College in Cambridge. It was Mary's wish that, on her death, the College should have her Hebrew books. The collection comprises nearly 50 manuscript items, written in Hebrew in Samaritan characters, Samaritan and Arabic, as well as printed Bibles, commentaries and concordances, grammars and books on Jewish history and archaeology.
More information about the archival and special collections of Girton College can be obtained from our website
http://www-lib.girton.cam.ac.uk/ or by emailing us at library@girton.cam.ac.uk
© Copyright The Mistress and Fellows of Girton College, Cambridge.
---
Samaritan DNA
By Shomron
Recently we (the-samaritans.com) received an e-mail from an American concerning his family history and DNA. "My Y Chromosome DNA shows that a Samaritan in Israel and I share a distant, common male ancestor. My great-great grandfather immigrated to America from southwestern Germany over 150 years ago. But evidently his male line ancestor came from Israel."
We contacted Bennett Greenspan, President of Family Tree DNA, who responded, "We have no one who has the exact DNA of the handful of Samaritans in the database. Their DNA is closest to the many Jews we have from Ashkenazi and Sephardic Europe, but not exact. I believe this is because of the separation of at least a few thousand years which allows for the time from one set of people and another. The results are close to the results of the Cohanim paper of 1997, but not exact. The DNA is pretty clearly Semitic."
Accordingly today, it is possible to trace your family DNA. If you are interested in having your DNA tested, we suggest
http://www.familytreedna.com/. Prices start at 149 US dollars.
"Males are now able to see if another male is a descendent from their paternal grandfather's paternal side. Our 12 marker Y Chromosome test has become the market standard, while our recently introduced refinement Y-DNA test yields the world's tightest parameters to the Most Recent Common Ancestor (MRCA). You may order the existing 12 marker test and return to "refine" your test at a later time without the need to re-submit another DNA sample! "
---
The Origin and Nature of the Samaritans and their Relationship
to Second Temple Jewish Sects
By David Steinberg
.

Who Are the Samaritans?
The Samaritans
are an ancient Jewish sect, surviving to the present, which accepts the Torah as its only canonical scripture. I call them Jewish because their religion is totally based on the Torah which, though compounded of northern (Kingdom of Israel) and southern (Kingdom of Judah) material, was given its shape and final form by Judean (priestly?) authors in Jerusalem or Babylonia. Ethnically, the Samaritans would seem to be descendants of the Joseph Tribes plus Levitical, Zadokite and, perhaps, other Israelite priestly elements. In addition, there was a small foreign, pagan upper class, settled in Samaria
by the Assyrians in the 7th and 8th centuries BCE, which would seem to have been rapidly assimilated by the Israelite population.
The earliest extant Samaritan literature (Torah, Targum, Memar Marqa, and the earliest layer of their liturgy) shows them to have an uncompromising monotheism based strictly on the Torah. Noja in
Crown
p. 808 passes on Macuch's description of Marqa's article's of belief as "… one God, one Prophet, one holy Book, one holy Place…" Their creed in recent centuries is belief in:
§ One God
§ Moses as the one prophet (At times this belief is almost Christological (Marqa (4th century CE) "He who believes in him believes in the Lord.)
§ The Torah
§ Mount Girizim
§ The Day of Judgement and Recompense (accepted as doctrine some time after 200 CE)
To relate this to the basics of Rabbinic Judaism, probably Maimonides would only object to the sanctity of Mount Girizim. Putting the boot on the other foot, of Maimonides' 13 Principles of Faith, the Samaritans would have trouble with #6 i.e. that there were prophets after Moses. They also do not accept the legitimacy of the Oral Law. In this they are at one with the Sadducees
and Kariates.
Read the full article at
http://members.rogers.com/davidsteinberg/samaritan_origin.htm
---
Der Hebraische Pentateuch der Samaritaner- August Freiherrn Von Gall, ed.
Giessen: Verlag von Alfred Topelmann, 1918
http://rosetta.reltech.org/cgi-bin/Ebind2html/TC/vonGall
---
Thank you!
We would like to thank you for visiting our website,
The-Samaritans.com
in the past and hope you visit us again real soon. We ask you to forward this Update to your friends. The purpose at our web site is the education of the existence and history of the Samaritan-Israelites, descendants of the ancient Kingdom of Israel. Recently we have been working on expanding our web site. We do hope you enjoy visiting our site and recommend it to your friends. Again we thank you for visiting us at
The-Samaritans.com

. Take care and may you be blessed from the Holy One from above

.