June 19, 2003
In This Issue
Community Announcements

Samaritan-Israelites May Not Perform in America

Reflections from Amram's Words of Hurst's Story

The Samaritans from the Biblical Times

World War Three Report
---
The Samaritan Update, a bi-weekly Internet Newsletter is a division of the-samaritans.com.
Subscription is free via E-mail only.
-----
Editor: Shomron
Co-Editor: Osher
Sassoni
Staff Writer:
Staff Photographer:
Eyal Cohen
Staff Translator:
Guy Tsabary
Special Contributors: A. B. News Services
----
Contact information:
Shomron@Yahoo.com
---
and to our
---
What have you learned lately?
---
Read and gain knowledge at our website:
The Messianic Hope of the Samaritans
By
Jacob, Son of Aaron
---
WANTED:
Spanish and French Translation Editors for establishing a new Spanish and French sections on our web site.
Please contact:
Shomron
---
Support and Visit Our Web Based Store
From Books to a Samaritan Interactive CD-ROM works on Windows or Mac PC. Exhibiting many photos and mini-movies. It addresses the Samaritan religion, their chronicles, community, language and literature. The Samaritan Singers reform (Osher sings with them on this cd-rom) their music on the CD-ROM. It is full of information.
Other items: Samaritan Cookbook in Hebrew,
CD of the Samaritan Singers Assembly,
Check it out today!
Or if you are looking for something different. Interested parties can contact us at webmaster@The-Samaritans.com
---
Get your free
E-mail Address from www.The-Samaritans.com/ . Just go to our web site and find
"get a free e-mail address" or go to http://samaritan.i-p.com/ and register.
Let people know you are involved with the Samaritans.
---
Subscribe to the
A.B.- The Samaritan News- A Bi-Weekly Newspaper, Written in Four Languages.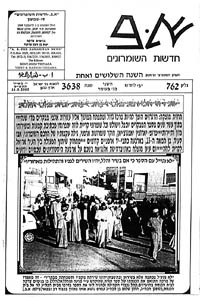 Since December 1969.
POB 1029, Holon 58 110, Israel or
E-mail Benyamim and Yefet Tsedaka: tsedakab@netvision.net.il
Back Issues Are Available.
Mount Gerizim, All the Days of Our Lives
---
Community Announcements
By Osher Sassoni
May 25: Dolev, a little child was born to the young couple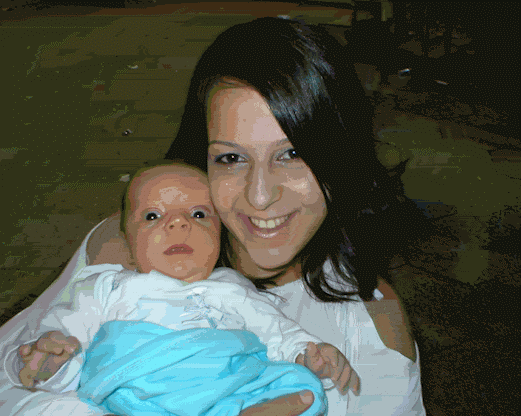 Eyal and Yifat from Tsedaka of Holon. Congratulations! It is their first born child. (Photo: to right, Yifat holds her son)
June 9: A little son named Nadav was born to the couple, Yigal and Smadar Tsedaka of Holon. They are now the proud parents of two, their first child was a little girl. Congratulations! His circumcision was on the 17th.
June 11: a little boy, named Ildad among his people, was born, brother to his older sisters, to the couple Dror and Nariman Marhib of Holon. Congratulations!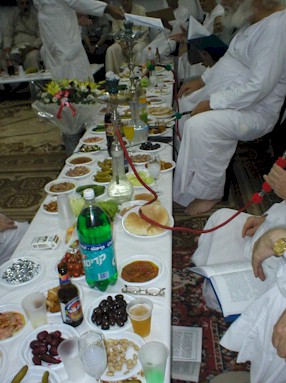 June 11: A little baby boy, named Yahel among his people, was born to the couple Noam and Danna Sassoni from Holon. Yahel is now a brother to his older sisters. His circumcision was on the 19th. Congratulation!
June 12: Itay, the son of Nory and Iris Tsedaka, celebrated his Bar Mitzah, Itay just recently finished his studies of the Chumash.
June 14: A little girl was born, the first born of the new couple Tamir and Avivit Tsedaka of Holon. Congratulations!
June 15: Priest Assaf Cohen, also the main Cantor in Holon, celebrated his recovery from his heart attack, in Molad Moshe in Holon, with family and friends people of Holon and mount Gerizim.
June 18: A new couple was added to the community in Holon. Yaccov (27, a computer technician) and Saggit (insurance official). the wedding was celebrated at Haddar Gardens at Rishon Le Tsion. The Katuba (marriage agreement) was read by Priest Assaf Cohen, at the local community center of the Holon neighborhood. (Photo above: "Mashkara" one day before the wedding)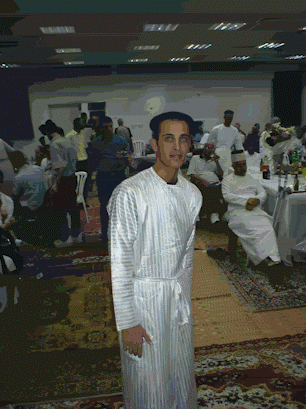 (Photo to left: The Groom Yakov ben Menaseh (of blessed memory)
---
Support Us
to Serve you Better!
See Our Financial Endowment page located at our main Website.
---
Samaritan-Israelites May Not Perform in America This Year
Because of unforeseen circumstances the Samaritan Israelite Music Ensemble Singers may not be performing this year in the USA. Many of the twenty Samaritans-Israelite singers will not be capable of visiting the US this year. While there were appearances scheduled this year such as the International Festival of Coral Music in Missoula, Montana on July 16-20, a few singers may still appear with their director Benyamim Tsedaka.
The unique group made up of all Samaritans from both Samaritan communities from Holon and Kiriat Luza, sing the most ancient music in existence today. You can learn more about the music at our main web site, the-samaritans.com.
---
Reflections from Amram's Words of Hurst's Story and the Asatir
'The world, he (Amram) claimed, is about seven thousand years old. For fifty-five years men will go on increasing in wickedness, after which there will come a time of great peace and purity. Then there will come on a new period of consummate wickedness, which will last three hundred years. This time will be consummated by the total destruction of the world. After this the general judgment will take place, when the righteous will go to live with God and the wicked with Satan. There are some people who have clean hearts, or at least are accepted as clean, though none are absolutely pure. Just here Amram looked off, as if in the distance, and said, "God is one!"' ("Harpers New Monthly Magazine", Volume LXXIX, June to November 1889, The Oldest and Smallest Sect in the World, Rev. John F. Hurst, D.D., Published in New York, by Harper & Brothers)
As you have just read, Amram stated that the world is almost seven thousand years old. The fifty-five years of increasing wickedness may have began at or during WW II, than after a period would come of peace but this does not necessarily mean that peace would come after fifty-five years. He stated that the wickedness would increase for these years. The year of the time of peace is not stated, just that it would come. After a time of peace and purity, Amram says , will come three hundred years of wickedness. All this may correlate with the Asatir (See: The Asatir, the Samaritan Book of the Secrets of Moses, together with the Pitron or Samaritan Commentary, Written and translated by Moses Gaster, 1927.p. 318-319) The time period of Peace and Purity appears to resemble the Messenger of Peace in the Asatir. "A prince will arise from the section (portion) of the Lawgiver. From the West the messenger of peace (comes) to the gate of glory. The community will rejoice; for they will worship our Lord in peace."
For three hundred years of wickedness can relate in the Asatir to, "A prince will arise who will spoil the [gentile] nation and 'will come out of (rule from) Jacob and will destroy the remnant of the town."
But then will come, "A prince will arise who will write the Law in truth, the rod of miracles in his hand. There will be light and no darkness." This prince will be the one prophet like Moses that carries the evidence, the rod of Moses. But God only knows the truth! May the Creator be praised!
---
The Samaritans from the Biblical Times to the 21st Century Guardians of the Faith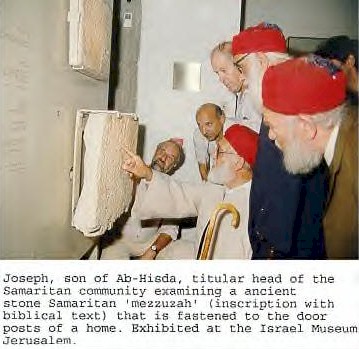 By Norman A. Rubin, Journalist, Indep. Scholar, Jerusalem, Israel
Most people know little about today's Samaritans. Many believe that the name refers to an ancient Biblical race of which no vestige survives. They are often surprised to learn that the Samaritans, who accept only the Pentateuch as Holy Writ, are a vital, intelligent group with a rich history and a distinctive language and literature, practicing their own form of worship and following age-old traditions and customs.
They claim direct descent from Ephraim and Manasseh, sons of Joseph, who entered the Promised Land with Joshua and settled in the Samaria region; while their priests stem from the tribe of Levi. The Samaritans rather resent the name by which they are known; preferring to call themselves "Shamerim" --in Hebrew, guardians-- for they contend that they have guarded the original Law of Moses, keeping it pure and unadulterated down the centuries. Read the full article and other photo at http://users.hol.gr/~dilos/anistor/hnews/h032.htm
---
Two New Books to be Published and Available Soon:
Alan Crown (University of Sydney), The Third Edition of A Bibliography of the Samaritans
Ingrid Hjelm (University of Copenhagen) Jerusalem's Rise to Sovereignty in Ancient Tradition and History: Zion and Gerizim in Competition (forthcoming, Sheffield Academic Press,2003)
---
World War Three Report ISSUE: #. 36. June 2, 2002

11. ARAFAT CLAIMED JEWISH TEMPLE WAS IN NABLUS--OR WAS IT SAMARITANS?
Appearing on Israel's channel one TV on May 14, former US peace negotiator Dennis Ross said that Palestinian Authority Chairman Yasser Arafat "never offered any substantive ideas [for peace], not once" during two weeks of talks at Camp David in the summer of 2000. Ross said the only new idea Arafat offered was that the Second Temple, which the Romans destroyed 2000 years ago, was never in Jerusalem. "He did offer one new idea, which was that that the Temple didn't exist in Jerusalem, that it was in Nablus," Ross said. http://www.worldwar3report.com/36.html#palestine11
http://www.blythe.org/nytransfer-subs/Covert_Actions/WW3_REPORT__36-4_Jun_2002
---
Thank you!
We would like to thank you for visiting our website,
The-Samaritans.com
in the past and hope you visit us again real soon. We ask you to forward this Update to your friends. The purpose at our web site is the education of the existence and history of the Samaritan-Israelites, descendants of the ancient Kingdom of Israel. Recently we have been working on expanding our web site. We do hope you enjoy visiting our site and recommend it to your friends. Again we thank you for visiting us at
The-Samaritans.com
.