August 29, 2002
Volume II, Issue I
*Profile of a Samaritan
*One Year Anniversary of the Samaritan Update
*Small Samaritan Scroll
*Studies on the Samaritans in India
*"The Commandment Keepers" – A new video on the Samaritans
*Samaritan Art
---
and to our
---
---
Coming soon to our web site:
SALAMEH B. GHAZAL, THE HIGH PRIEST AND
HUSSEIN'ABD U-HADI, THE GOVERNOR OF NABLUS
By Haseeb Shehadeh [University of Helsinki]
---
The Third Edition of " A Bibliography of the Samaritans" should be on sale later this year. Watch for it!
---
The latest book, The Samaritans has been written in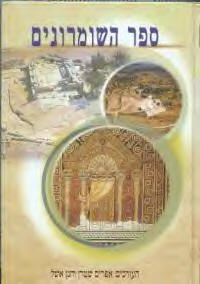 Hebrew by Ephraim Stern and Hanan Eshel, publication by Ben Zvi
---
And Read:
The Tsedaka Family: One of the Most Active Elements in the Samaritan Community in the 20th Century
by Nathan Schur.
The Return of the Diaspora Samaritans to Nablus at the End of the Middle Ages
by Nathan Schur.
---
Our Store is Open, Come on in!
Samaritan Interactive CD-ROM works on Windows or Macintosh pc. Exhibits many photos, mini-movies. Addresses the Samaritan religion, chronicles, community, language and literature. The Samaritan Singers reform (Osher sings with them on this cd-rom) their music on the CD-ROM. It is full of information.
Other items: Samaritan Cookbook in Hebrew,
CD of the Samaritan Singers,
Check it out today!
Or if you are looking for something else, interested parties can contact us at webmaster@The-Samaritans.com
---
Get a free E-mail Address from www.The-Samaritans.com/ . Just go to our web site and find
"get a free e-mail address" or go to http://samaritan.i-p.com/ and register.
Let people know you are involved with the Samaritans.
---
Subscribe to the
A. B.- The Samaritan News-
Since December 1969.
A Bi-Weekly Newspaper, Written in Four Languages.
P.O.B. 1029, Holon 58 110, Israel or
E-mail Benyamim and Yefet Tsedaka: tsedakab@netvision.net.il
Back Issues Are Available.
---
'The Samaritan Discussion.'
Ask questions and post you views!
Come Join Us!
Profile of a Samaritan
The man in the photo is Abraham Ben Pinhas, a cantor in the second and little synagogue in Holon. During the week on regular days, he is found working at "Menora," an insurance company as an accountant. He is approximately 47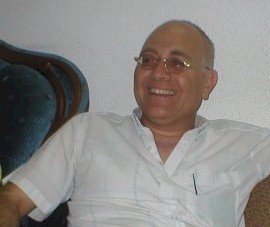 years old and is one of the professionals that calculates the calendar, "Ishban Kashta (the truth calculation in Aramic)." He is the first born son of Pinhas, the first priest who came from Nablus to Holon after 1967 and served as the cantor. Abraham has five brothers, and three daughters. Besides being one of the priests of the the young and next generation, Abraham is a former member of the committee of the community in Holon till recent years. He is considered to be a moderate priest with some ideas for changes, not all of them are in the middle of the consensus.
Pinhas, Abraham's father is considered to be one of the smartest elders in his day. Phinhas was a priest and from a young age people called him "welcome my priest"(English translation) and was greatly honored among the community. There are articles from Phinhas in Hebrew located in our archives. Osher Sassoni (article and photo)
---
One Year Anniversary of the Samaritan Update
It has been one year since the Samaritan Update first began by the suggestion from Osher Sassoni. The first issue, a one page document appeared on August 23rd 2001. Since then the Samaritan Update has became quite the project, mostly to find new and interesting stories. I received much help from Osher Sassoni (Director of the-Samaritans.com), and Benyamim Tsedaka, (co-editor of the A. B. Samaritan News). Both men are Samaritans living in Holon, Israel. I have received much help from scholars also, in related information. Numerous book sellers and departments have also helped contribute to the articles. To all these people, I wish to say thank you, THANK YOU! In the future I hope to enhance the articles with new exciting ingredients. Any one wishing to write an article, please contact us at Shomron@yahoo.com. I hope you have enjoyed the past year of the Samaritan Update and you can now go to the Samaritan Update Index found at thesamaritanupdate.com. Shomron
---
Small Samaritan Scroll
I recently purchased a small scroll from a dealer that obtained it from an estate sale in Connecticut from a Jewish family.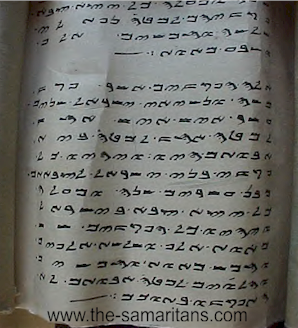 The small scroll with it's tin cylinder case is smaller than 6 inches. It is being shipped to
me as I write this article. Upon trying to locate further information concerning these small scrolls I was only able to locate one similar scroll that is in the William E. Barton Collection of Samaritan Materials at Boston University. Their scroll (C-062 WEB Box 4, Scroll 15) appeared to have had five handles, now missing three. It also contains a hand written Biblical text but there is no information as to which chapter. The chapter of our recent purchase, written in Samaritan script is Numbers chapter one, with verses 32-47 shown in the photo to the right. As you can see in the photo of the scroll below, one of the lower handles is missing.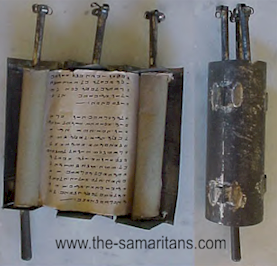 Benyamim Tsedaka informed me that the 'Samaritan priests living in Nablus in the first half of the 20th century made an 'industry' of selling small scroll cases as souvenirs to tourists that visited mount Gerizim. Each case contained a chapter from the Torah.' It is not known at this time how many tin cases were made and how many have survived the last one hundred years. If anyone has any further information, including locations of other similar scroll cases, please contact us at
Shomron@yahoo.com
Any valuable further information may be forthcoming. Shomron
---
Studies on the Samaritans in India
Machon HarGerizim Lelimudei Shomronuth Aal Shem Mar Christu Doss Benjamin
at Vettuvila, Kashmire, India By: Adv. Premdoss Swamidoss Yehudi
My third book in English, entitled "The Samaritans of Israel", published by Sachetana in Thishri 5752, was received well by those interested in Bible Studies and the general public. Consequently I was invited by several groups to give lectures on the history and traditions of Ha Yisraeleem Hashomroneem.
In 1994 I shifted from my parental home and settled down at Vettuvila, on the northern outskirts of Thiruvananthapuram city, with my wife Usha Yehudi. We built a residential house-cum-study center here and named it Har Gerizim. On 19 Teveth 5755/December 22, 1994 a baby girl was born to us, whom we named Betty Bath-Yehudi. We follow the tenets of the Thorah as understood and interpreted by HaYisraeleem Hashomroneem. Machon HarGerizim Lelimudei Shomronuth Aal Shem Mar Christu Doss Benjamin was founded here to carry out studies and research in Shomronuth and Shomroni literature. It was founded in honor of my paternal grand-father, the late Mar Christu Doss Benjamin of blessed memory, a noted Bible scholar. On November 13, 1999 a meeting was held at Trivandrum Hotel under the auspices of Mahon HarGerizim Lelimudei Shomronuth Aal Shem Mar Christu Doss Benjamin, which was attended by representatives of different religions. Noted Malayan novelist Rev. Samuel Nettiyadan presented a paper on "Religion in the 21st Century". Adv. Kanjiramkulam S. Jayakumar presided. It was followed by discussions in which Mrs. E. J. Vijayamma, Adv. K. Simon, Mr. M. Subhash, Mrs. Retnamma Victor, Mr. N. K. Bhasy, Adv. K. G. Vijayakumar, Adv. R. Sreekantan, Mr. Neyyattinkara Retnaraj, Mr. T. Poul Mony, Mr. Edward Cherukary and Adv. C. Sukumaran participated..
A. B. News Services
---
"The Commandment Keepers" – A new video on the Samaritans
A thirty-minute video entitled "The Samaritans – Commandment Keepers" has been produced by a Canadian production company and the A. B. Institute of Samaritan Studies. The film is in English and has already been screened to various audiences in Canada and the USA, as well as on western television networks. A Hebrew-subtitled version of the film is in preparation. The film describes the story of the survival of the Samaritans, their struggle for existence and their proud preservation of their unique tradition. The film opens, of course, with the landscape of Mt.Gerizim. Against this background, with visual illustration in picture and movement, the proud, tragic and joyous history of the Samaritans is told. After this there is a full description of the Paschal sacrifice, as filmed in April 1999. This is followed by a tour of the Samaritan neighborhood in Holon and the old Samaritan quarter of Nablus – an emotional tour symbolizing the exodus of the community from the shadowy lanes – the community's gloomy period – to the houses of the growing district of Kiryat Luza on Mt. Gerizim and the well-tended homes of the Samaritan neighborhood of Holon. The film ends with a description of two cultural enterprises that are representative of the entire community: the journal A.B. Samaritan News and the A.B. Institute of Samaritan Studies. The film is moderated by its editor, Dr. Jay Rawlings, and Benyamin Tsedaka, an editor of A.B. Samaritan News and a director of the A.B. Institute of Samaritan Studies. Among the main participants are Yefet b.Ratson Tsedaka, an editor of A.B. Samaritan News and a director of the A.B. Institute of Samaritan Studies, the young Ab-Sickuwwa b. Abed-Anuna Altif and the young priests Yussef b. Tsedaka, Phinhas b. Sadeck and Maslih b. Beret. Also seen for a few seconds are young Samaritans including as Na'amah Tsedaka, Liran Yehoshua and Avi Tsedaka. The film has been produced for broadcast by two systems: that in use in Europe and Israel (apart from France); and that in use in North America. A Hebrew-subtitled version of the film is in preparation. All rights are reserved to the Canadian production company and the A.B. Institute of Samaritan Studies. The film may not be copied or screened in public without their consent. Those interested in ordering the new video film can do so directly from the A.B. Institute of Samaritan Studies, POB 1012, Holon 58110, tel:03-5567229; or 03-5564553; or 03-5562055; or mobile telephones 053-566559; 053-408988.or by email to tsedakab@netvision.net.il Price per each film: $35 [$30 plus $5 postage].
A.B. News Services
---
Samaritan Art
Recently I located some information on the internet concerning a grant that was given to Einat Ron. She has been working on the image of the Tabernacle in Samaritan ritual art. She received her Master's degree from the Department of Art History. In the past she researched the 'Sacrifice of Isaac.' If anyone has any information to her article, I would be interested.
James Purvis of Boston University wrote an excellent article on the Sanctuary and Holy Vessels in Samaritan Art that he read at the Societe d'Etudes Samaritans, Congress in Milano, in 1996. While we have not found any photos that we have permission to use, that relate to his article, we are hopeful that in the future we will obtain a couple and add them to his article. We will notify you of this materializes.
Learn more at our Web site by reading:
The Sanctuary and Holy Vessels in Samaritan Art
By James D. Purvis of Boston University
---
Watch for the next issue of the Samaritan Update for an article with photos from the British Paper, the Picture Post of April 24, 1943, written by Cecil Roth and called,
Samaritans Keep the Passover
---
Thank you!
We would like to thank you for visiting our website,
www.The-Samaritans.com
in the past and hope you visit us again real soon. We ask you to forward this Update to your friends. The purpose at our web site is the education of the existence and history of the Samaritan-Israelites, descendants of the ancient Kingdom of Israel. Recently we have been working on expanding our web site. We do hope you enjoy visiting our site and recommend it to your friends. Again we thank you for visiting us at
www.The-Samaritans.com

. Take care and may you be blessed from the Holy One from above

.